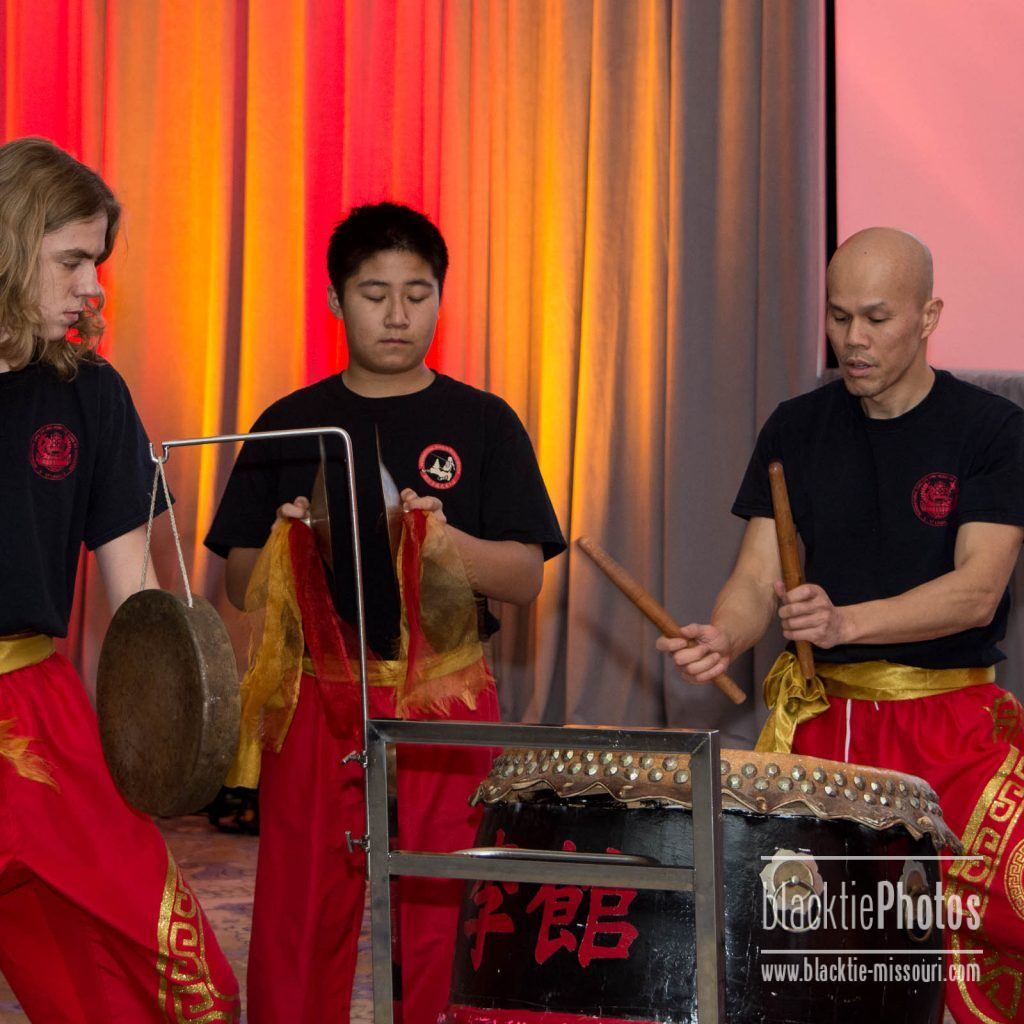 More than 300 guests rang in the Chinese New Year at the World Affairs Council 26th Annual Celebration at the Ritz-Carlton-St. Louis on Friday, February 3, 2017. Executive Director, Robert Fischer welcomed the guests to the Year of the Rooster.
The evening began with a cocktail reception with magician acts and accordionist performances. Guests could participate in a number of activities including, Chinese calligraphy and paper cutting, tarot card reading, raffles and silent auction. The banquet featured a delectable Chinese feast, served family style. A traditional Lion Dance was performed by the International Shaolin Washu Center.
Occupying the 10th position in the Chinese Zodiac, the Rooster is an observant, resourceful, courageous, and talented animal. They tend to be confident in both themselves and their work. Much like his or her animal counterpart, who is known for announcing the coming of dawn and waking people up on time in the morning, Roosters tend to be punctual, quick-minded, and ambitious, with a hard work ethic. They seldom rely on other people, but their loyal personalities make them willing to help others when they are in need. Attractive and charming, the Rooster is popular among crowds, amusing them with his or her active, talkative personality. 2017 is the year of the Fire Rooster, one of the five elements associated with the Zodiac signs. Those born under this specific combination of both sign and element are known to be trustworthy, with a strong sense of timekeeping and responsibility at work.
The 2017 horoscope predicts that this will be a powerful year in which decisions and impressions count. Under the influence of the Red Fire Rooster, this will be a year in which one should work hard and follow well-proven paths in order to achieve success. Projects may take a long time to complete during this year, but patience, commitment, and a hard-work ethic will help one to achieve his or her goals and reward him or her with a joyful, relaxing period afterwards. The Rooster will also make 2017 a year of financial events, which may benefit one's career or investments.
The World Affairs Council of St. Louis, an international cultural education non-profit, has sponsored an annual fundraiser that celebrates the arrival of the Chinese New Year. The event proceeds underwrite the council's free international and cultural programs for students and people of all ages. WAC is a non-partisan membership organization that connects the citizens of the Gateway region to the world. The Council's mission focuses on sponsoring programs that promote understanding, engagement, relationships, and leadership in World Affairs