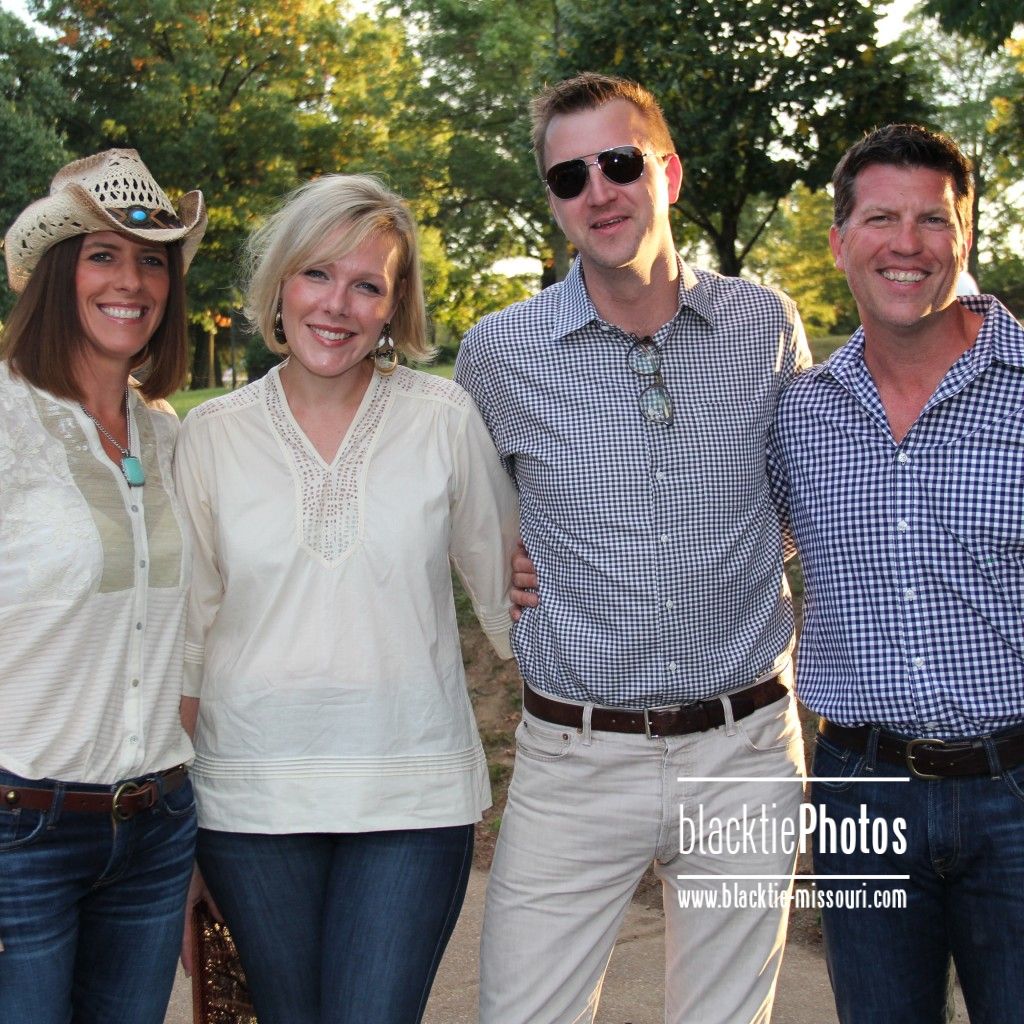 More than 200 guests attended Carts & Cocktails, a progressive party as unique as Laumeier itself, Saturday, September 27, 2014 at the Sculpture Park. Guests cruised through the Park in golf carts, enjoying sweet and savory fare, specialty cocktails, a silent art auction of works by Tom Huck, and live entertainment from the Boney Goat Band, The Root Diggers, and the Cree Rider Family Band. The event proceeds will support Laumeier's exhibition, education, and art conservation programs.
Guests first traveled to The South Woods where they found passed hors d'oeuvres and Geoffrey Krawzyck's site-specific installation Recess, 2014, an interactive space that refers not only to the decline of the Mississippian civilization at the Cahokia Mound site but also the urban areas of St. Louis. The room-sized chamber consists of reclaimed materials, especially bricks, from one or more of the authentic architectural ruins of St. Louis' North Side.
Next, they went to The Way Field for dinner stations and became part of the artwork during a special preview of Laune: A Dance Performance, riding through the cultural landscape in which the performance takes place. Dancer, choreographer, and 2015 Kranzberg Exhibition Series artist Ashley McQueen honored the labor that goes into the manicured landscape at Laumeier. Through a series of performances using riding lawnmowers, McQueen's dancers explore Laumeier's unusual relationship with St. Louis County Parks, highlighting the passion and hard work that goes into the care and maintenance of the 105-acre landscape.
The journey subsequently stopped at the Moss Shelter and Leaf Pavilion, converted into a cigar lounge and whiskey tasting venue with Hooch House Favorite snacks. The Cree Rider Family Band entertained the guests before concluding with Moonshine Madness Desserts.
Laumeier Sculpture Park manifests a living laboratory where artists and audiences explore the relationship between contemporary art and the natural environment. Founded in 1976, Laumeier comprises one of the first and largest dedicated sculpture parks in the country, making it an institution of international significance as well as a unique compliment to the cultural landscape of the St. Louis region.
Laumeier, a nonprofit, accredited art museum, operates in partnership with St. Louis County Parks. Programs are supported by the Regional Arts Commission, Missouri Arts Council, the Arts and Education Council of St. Louis, and the University of Missouri–St. Louis. Laumeier encompasses 60 works of large-scale outdoor sculpture in a 105-acre park available free to the public year-round. It serves 300,000 patrons annually through temporary exhibitions, education programs, public events, and conservation of the Permanent Collection.