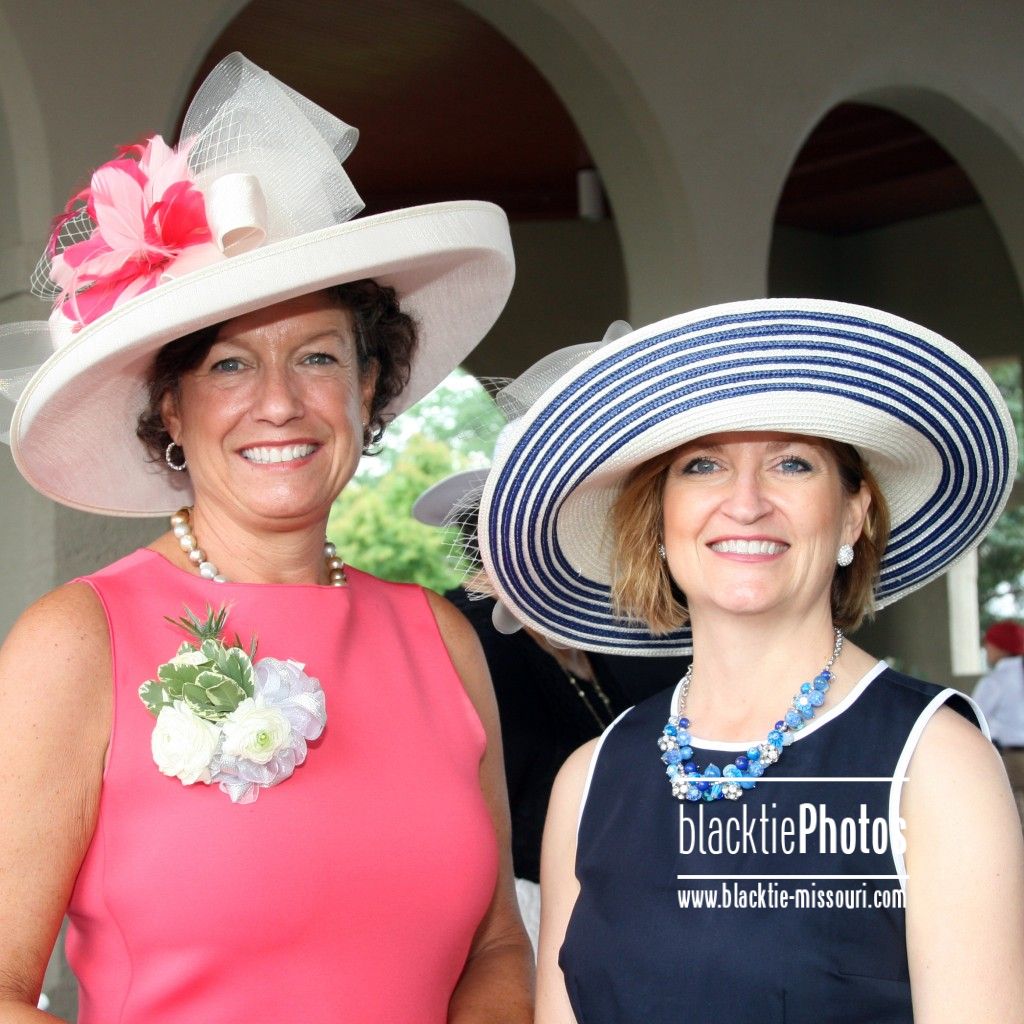 Forest Park Forever welcomed more than 1,100 guests in fine spirits, despite the weather, and fanciful hats to the organization's 25th Annual Hiram W. Leffingwell Award "Hat" Luncheon, held at the World's Fair Pavilion in Forest Park, Thursday, June 4, 2015. The popular annual affair raised over $400,000 for St. Louis' beloved Forest Park. The funds will support Forest Park Forever's ongoing restoration and maintenance efforts, essential to ensuring that Forest Park remains beautiful and accessible for more than 13 million visitors annually.
The event's principal sponsors, Emerson, Stifel, and Edward Jones were joined by  Monsanto, The Crawford Taylor Foundation, Enterprise Holdings Foundation, and others to honor the Founding Members of the Women's Committee of Forest Park Forever, which has collectively raised $6 million for the Park in the past quarter century. Members of the Forest Park Forever Land Management staff hand-delivered awards to each of those attending .
The luncheon, named for the man who first envisioned the dreams of a "magnificent breathing space", the Hiram W. Leffingwell Award Luncheon, better known as the "Hat" Luncheon, recognizes individuals, corporations and foundations that have made significant contributions to the restoration of Forest Park.
The Stifel Hat Contest "topped off" the afternoon. During the proceedings, anonymous judges selected winners from more than 1,000 hats in the categories of "Romantic", "Whimsical", "Vintage", "Fascinator", "Silver 25th Anniversary″, "Best Male Hat", ""Best in Show", and "Best Table Theme". After much deliberation, the judges determined the following winners:
Romantic: Marilyn Gooch, Andrea Topps, Ashley Parks
Whimsical: Marsha Schuman, Anacleta Steffen, Shonte' Moore
Vintage: Becky Ulses, Lee Riggs, Merle Freed
Fascinator: Valerie Kennedy, Chelsey Oliver, Beth Davis
Silver 25th Anniversary: Dianne Isbell-O'Brien, Diedre Gray, Cathy Dunkin
Best Male Hat: Everett Dietle
Best in Show: Sue McCollum
Best Table Theme: St. Louis Homes & Lifestyle
"The 2015 Hat Luncheon was a smashing success," exclaimed Forest Park Forever President and Executive Director Lesley S. Hoffarth. "During this special 25th anniversary year, the Women's Committee hosted our most popular Hat Luncheon ever, raising essential private dollars for the region's greatest civic treasure. Thanks to this year's sponsors and attendees, Forest Park Forever is in a stronger position to keep this beloved destination beautiful and accessible for all."
When the Women's Committee initially launched this event 25 years ago, the members focused on one specific project: the Nathan Frank Bandstand within Pagoda Circle. In 2015, the Committee turned its attention to making essential repairs and improvements to the Cascades, the 75-foot waterfall and natural destination located on a hillside between the Saint Louis Art Museum and the Probstein Golf Course. Funds raised during this year's luncheon will support improvements to this iconic destination.
At the conclusion of the luncheon, each guest took a beautiful bud vase, courtesy of the Alvin J. Siteman Cancer Center.
About Forest Park Forever
Founded in 1986, Forest Park Forever comprises a private nonprofit conservancy that works in partnership with the City of St. Louis and the Department of Parks, Recreation and Forestry to restore, maintain and sustain Forest Park as one of America's greatest urban public parks.
Along with the City of St. Louis, Forest Park Forever raised $100 million between 1995 – 2003 and dramatically restored many landmark destinations in Forest Park, including the Emerson Grand Basin, the Boathouse and the Jewel Box.
Today, Forest Park Forever maintains Forest Park with the City of St. Louis; delivers experiential educational opportunities to teachers, students and adults; provides information and guides for the Park's 13 million annual visitors; and seeks funds for and helps manage capital restoration projects outlined in the Forest Park Master Plan. Not part of the Zoo-Museum Tax District, Forest Park Forever draws essential support from 7,000 members, 1,100 volunteers and many leading community and corporate supporters and partners.