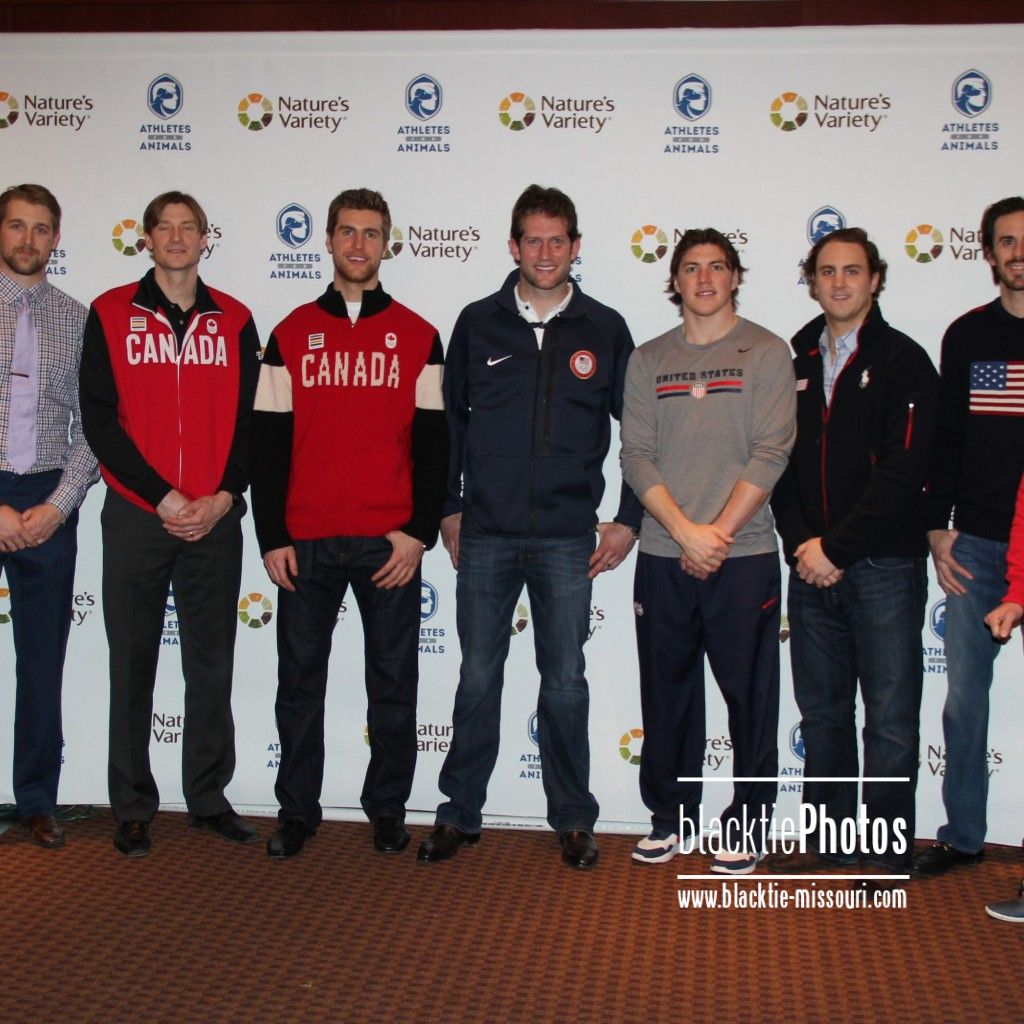 Athletes for Animals' Stars of Sochi Post Olympic Charity Event
Athletes for Animals held a very special post Olympic fundraiser celebrating the Blues' Stars of Sochi, Sunday, March 16, 2014, at Fleming's Prime Steakhouse and Wine Bar. Guests interacted with the Blues Olympic stars and enjoyed a casual atmosphere of superb food, beverage, and a rare photo opportunity with the players. The event raised more than $60,000 to benefit Athletes for Animals, a new charity dedicated to an increased respect for all companion animals, so that all decisions about pets – from adoption to spaying/neutering to providing a permanent home – lead to a manageable pet population.
If you knew something special was happening with the Aston Martins parked outside Fleming's, you guessed correctly. Delicious hors d'oeuvres, festive cocktails featuring Pearl Vodka, an assortment of wines and beers, plus a welcoming staff greeted the guests. They also had the chance to bid on unique Olympic memorabilia from Russia and autographed jerseys and had a first-hand glimpse of the Olympic gold and silver medals. More important, however, fans came to see some of their favorite Blues Olympic hockey stars including David Backes, Alex Pietrangelo, Jay Bouwmeister, Kevin Shattenkirk, T.J. Oshie, Alex Steen, Vladimir Sobotka, Patrik Berglund, and Ryan Miller. Each guest could have their picture taken with the Stars of Sochi, a real treasure for the hockey devotee.
Athletes for Animals would like to thank its gold sponsors, Nature's Variety Pet Food and Aston Martin, one of St. Louis Motorcars super-premium brands, along with Fleming's Steakhouse and Wine Bar, Magnolia's, and the other donors which made the event possible. It also wishes to express its appreciation to the attendees and everyone else who supported this unique occasion.